Moringa leaves are literally packed with vitamins, minerals, and healthy nutrients.
Did you know that moringa has 7 times more vitamin C than an orange? It also has 14 times more potassium than a banana! Here are some of the fantastic nutrients you get from this "miracle" plant: Vitamin A, vitamin B2, vitamin B6, folate, magnesium, iron, calcium and protein.
The secret behind moringa's amazing protective effects are its superstar antioxidants, especially quercetin and chlorogenic acid. Quercetin is responsible for lowering blood pressure. Chlorogenic acid helps to balance blood sugar after you eat.
Moringa is popular because people are realizing how much their bodies need protection at a cellular level. These days, everyone is surrounded by so many dangerous toxins, pesticides, pollutants and cancer-causing compounds. Antioxidants can help your body neutralize these harmful substances. If you want to give your cells the gift of incredible antioxidant protection, moringa is the ideal solution, pure and simple.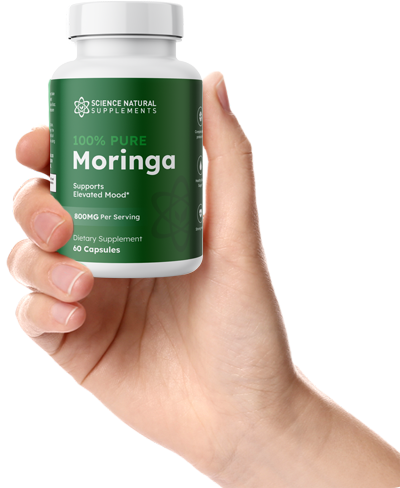 Only the Best Natural Ingredients
100% Pure Moringa Leaves
Moringa oleifera are the part of the plant with the highest concentration of beneficial antioxidants and nutrients. To maintain this spectacular nutritional content, the leaves have to be selected, picked and handled carefully. At Science Natural Supplements, we use only the purest moringa of the highest quality. That's why our moringa is so much more effective than other companies which often use cheap fillers.